"Let us make your culinary experience a memory for life."
Welcome to the Thörnström family. Let us make your culinary experience a memory for life. Together, we have half a century of experience of pampering our guests with human warmth, the best food and perfect dishes with accompanying drinks. Everything from your own neighborhood restaurant and star restaurant to company parties, Nobel dinners and princess weddings. Always with the highest quality, best service and with that little extra that makes your experience unforgettable.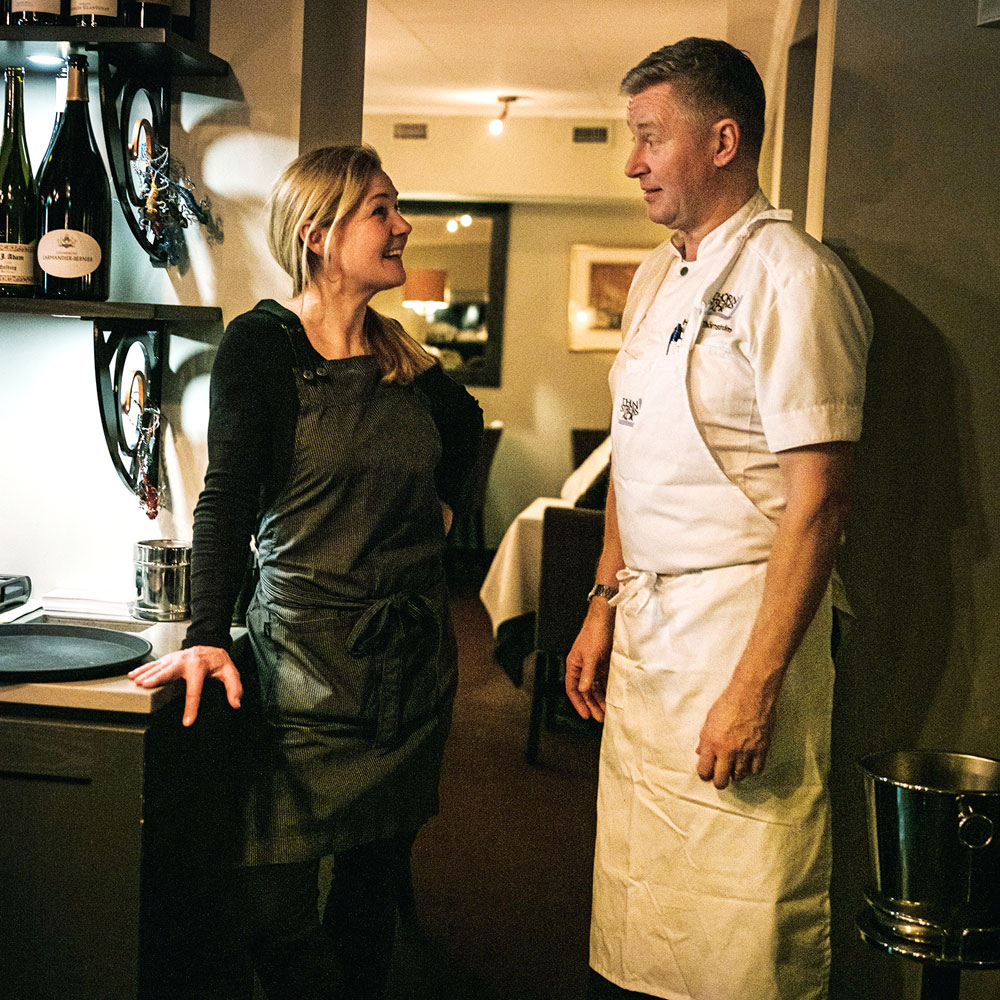 What can we do for you?
We prepare the food from scratch, as we refine local ingredients into classic but at the same time innovative meals. The kitchen is located at Thörnströms Privata Rum (Private Room) at Kronhusbodarna, where we also have room for 60 seated guests. If you are a small party, we can house you at Studio Thörnströms on Viktoriagatan. If you have your own dining room, we come to you. We have a great habit of handling catering of all sizes, from Lady and the Tramp to the Volvo Ocean Race, where we can help you with just about everything you need to make your invitation absolutely wonderful.
Cooking evenings, workshops and much more
You have probably heard of our pick-up menus that we offer every weekend. Or our Friday lunches at Thörnströms Privata Rum (Private Room) which are available as one or three courses. We also arrange cooking evenings and workshops in various culinary themes. In addition, we sell many of our own products such as apple juice, mustard, various glazes and marinades, towels, aprons, etc.
As early as at the age of 12 I realized that it was the kitchen path that applied to me. 40 years later, I will not one day regret my choice of profession.
A lot of hard work combined with doing what you love has given me so much in return. Colleagues who have become friends for life, trips to the whole world, the joy of seeing satisfied guests and an extensive competition experience in gastronomy. During the journey, I have received many honorary assignments such as responsible for the Nobel dinner, responsible for several dinners for our royal family, jury assignments in national and international small and large cooking competitions. My life as a chef has been incredibly enriching and rewarding. Imagine being able to do what you love day in and day out… on paid working hours😉
It has become a lot of national television over the years. Cooking programs, cooking competitions and other programs with food in focus.
The list of awards has become long. The nicest of them all is probably still the star in the Michelin guide that we received in 2011 and have kept ever since. Until 2021 when we by ourselves have chosen to close Thörnströms Kök. For everyone else important events in gastronomic careers see my CV. There is not enough place to write about them here.
My most important keyword in the industry: Proper cooking!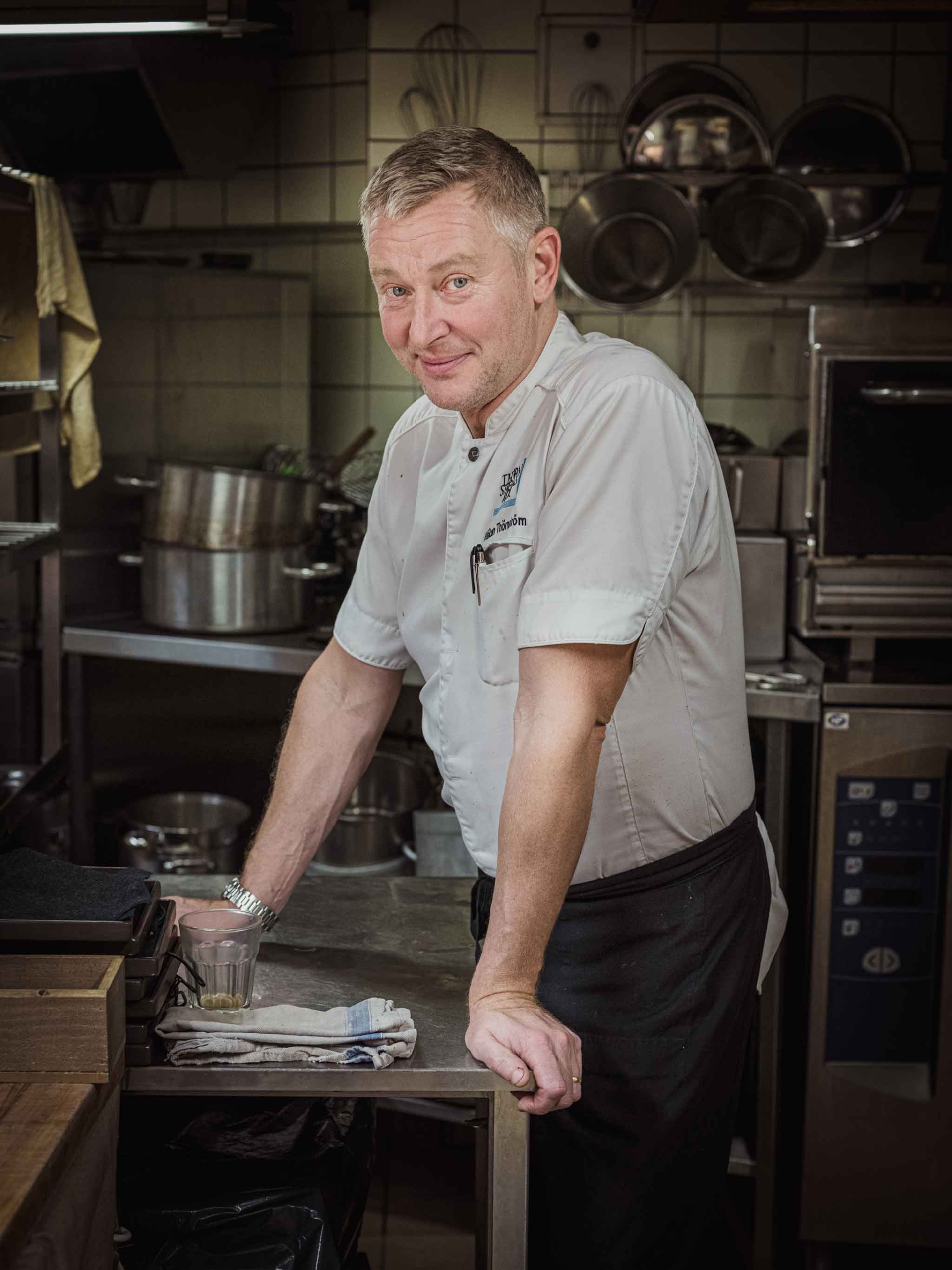 CEO, ENTREPRENEUR AND CREATOR
Shapes, creates and drives new ideas with our restaurants. Of course with a foot in the kitchen and in the dining room – the heart of everything.
The ambition and interest in food, drink and service started in early years. At the age of 13, I got my first job at Hönö's first pizzeria. The obvious high school choice was Ester Mosesson's High School. As a trained chef, the first job at Henriksbergs Kajutor in Gothenburg, where I cooked everything from solid home cooking to Sjötunga Walewska, was a very educational time. Unfortunately I had problems with my hands and could not work in the kitchen.
However, the road within the restaurant continued with studies. Then to Sjömagasinet, after an unplanned interview with Leif Mannerström, Lars Ahlström and Ulf Wagner, where dining and office work became the next challenge. On to Fiskekrogen as marketing manager.
In addition to the passion for food, drink and hospitality, I have another passion and that is skiing. It took me to Aspen, Colorado where I had some wonderful years with the best skiing and where I resumed cooking and worked as a private chef for celebrity guests. It's happening in the kitchen, cool to cook and after dinner light the cigarette for Jack Nicolson: – "Thanks chef!" "You´re welcome Jack!" There are many anecdotes….
Back in Gothenburg, I had a great time at Hos Pelle where I was restaurant manager and had the opportunity to develop wine knowledge.
When I met Håkan, it was a pretty natural step to work together. To develop Thörnströms Kök further to what it has been during our 24 years and in the meantime establish Privata Rum and Studio Thörnström.
As long as there is desire and passion for food, drink, enjoyment, hospitality and to be able to push ideas, I will continue my path in restaurant.
At Valborgsmässoafton (April 30) 1997, Thörnströms Kök opened in Gothenburg. A quarter of a century later, the restaurant closed. This is the story of a fine dining restaurant that has given thousands of people culinary moments and memories for life. It tells about what it takes to be one of the country's, perhaps the world's, best restaurants.
For three decades, we get to follow the hard but passionate work behind the scenes at a star restaurant where Anne and Håkan Thörnström always wanted to give that little extra to all their guests. We get to learn how veal brisket became a favorite, how many of today's star chefs took their first steps at Thörnströms Kök and why Swedish oysters are veritable rådjur (deer but also "raw animals" in Swedish).
The book also contains recipes from Håkan and the chefs who have created unforgettable menus over the years. Read the book, remember times that moved and let yourself be inspired in your own kitchen.